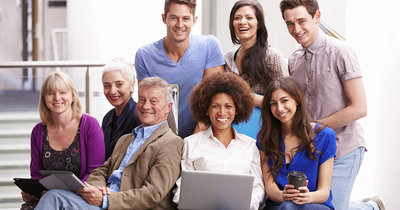 In 2013 I was newly single and got heavily involved in the singles scene in church and was looking for ways to improve it at all levels as part of magnifying my calling as the Ward Singles Rep. I put together this set of notes, which doesn't really read like an article, but has a lot of useful information in it for all sorts of people. I've shared it with many other singles reps in the church since the time I wrote it and everyone has gotten a benefit from it. Please enjoy.

Overview

The LDS church is extremely family oriented, which is a good thing, the typical path is to turn 18, go on a mission or go to college for a year, come back, get married and start a family. Anything outside of that is not well understood by the leadership. The current church membership is somewhere between one third and one half single adults, of those, 85% are inactive. That means over 5 million inactive members. We hardly have any business trying to get more new members when we have that many people who have accepted and then rejected the gospel, thus putting them in more immortal peril than someone who has never learned the gospel.

Secular divorce rate is appx. 50%, there are a lot of qualifying numbers, but that is a fair estimate. The divorce rate in the LDS church is about half that. There is a massive disparity of single women to men in the church, at least active, on the order of 8 to 1 in some regions. This makes dating and activities difficult in terms of finding someone to date and possibly marry. Then we have the whole problem of the dysfunctional social interaction between these single adults that make high school kids look like the smoothest players on the planet.

Singles in the church often feel left out or as though they don't belong, and with good reason, every fiber of the church is oriented towards family and people don't even realize they are giving offense or hurting someone's feelings. A couple examples, in Elders Quorum they will often set monthly goals, or talk about activities. These always include mention of a wife, under the assumption that everyone is married. A single woman will come to church and is greeted by other well meaning women with comments like "Oh, it's good to see you AGAIN" or "We didn't think we'd see you this week". This underscores their absence and leads to feelings that people are talking about them or paying inordinate attention to them.

Then to church callings. The singles are always given jobs like singles rep, or library, or church program, always callings that are hidden away. They aren't being called as first and second counselors or Elders Quorum president, etc. There is no reason not to, there is just an inherent bias against it.

So we're dealing with a few factors here:
1. Inactivity and how to make active, but are they inactive because?
a. Problem with the gospel?
b. Problem with the people?

2. Foster communication and environment that is fully inclusive

3. Create programs that help singles better meet and communicate
Inactivity

Missionaries, missionaries, missionaries. We are all swimming in missionaries right now and they aren't doing door to door canvassing any more, so make a first pass at understanding your flock:

1. Get a copy of your singles list in a spreadsheet that you can work with, have a section to make notes, give a print out to the missionaries and have them go and talk to everyone on the list, find out the following information:
a. Do they have a problem with the gospel? if so, then start addressing those questions
b. Are they married now? If so, is the spouse a member? address as needed
c. Kids? ages? (this is useful to know if they need babysitting and to tailor events)
d. Dead? Moved?
e. Challenges that keep them from going to anything, kids, ailments, etc.
f. Do they need any help with anything?
g. Do they not want to be contacted by the church again or have their records removed?

2. Once you have scrubbed the list, give it to the clear to deal with the church records.

3. Create a social event in your ward/stake for those inactives, like a BBQ, tailor it to their situation, like kid friends, etc. It is important here to get them socially so they can make friends and start to create a peer/support group so that when they do eventually start going to church, they can go with peers "hey, I'll go to church this week if you do.." kind of thing.

4. If needed, arrange group babysitting with the Mia Maids or Laurels as a service project, help these people out so they can attend.

5. Coordinate Home Teaching and Visiting Teaching, we want to prioritize the most at risk people with the most effective visits. The Bishop needs an HT visit far less than the inactive single mom for example, so sit down and work the lists and shuffle the families so we can at least count on that one touch point a month.

6. Get a monthly stake wide single adults family home evening going. Keep it light and social, you want to do it stake wide so you can have a critical mass of people. Having 10 to 30 people is way better than 2 or 3. Then everyone has fun, meets people and is more inclined to keep going. This now gives you 2 touch points a month with that person.



Rescue Packet (most of this is useful for all singles, active or inactive)

1. Phone number/email of home/visiting teacher and missionaries, ward clerk, etc.

2. Phone/email of singles rep for the area

3. Facebook groups and web sites for singles in the area

4. Location of local buildings, which one is the stake center, the meeting schedule, what ward/stake you're in, classes and classrooms (so no guessing if they come visit)

5. A designated "single" to go to church or activites with to help break that initial ice

6.check out this talk http://www.lds.org/general-conference/1986/04/we-love-you-please-come-back?lang=eng

7. LDS Divorce Support Groups and LDS Single Parent Support Groups (if available) would be helpful. Online or local groups... Perhaps info on the local LDS Family Services

8. There is absolutely no facility for someone who is in the process of divorce, namely support groups, they are specifically disallowed from doing anything with the other singles and in this most sensitive and difficult time are even more alone as most married people can't relate and you feel like a 3rd wheel.




Making Singles Effective

Question: If the church is serious about solving the stated problem, then it needs to actually do it and stop playing around the edges, otherwise they should get out of the singles business altogether

Issues:
* Church service and Firesides are not conducive to meeting and starting a
relationship, nor should they.
* Dances are also not a great way to meet people unless you start with a speed
mingling activity
* Singles get complacent with their groups and 'hanging out' becomes good enough
* Childcare so singles can get out
* How do you facilitate the cross pollination of singles so there is freshness to the
faces?
* How to reactivate single adults that have fallen away?
* Single parent family group activities
* Finding information if you aren't "in the know" is near impossible
* Ageism. The secular world has nowhere near the obsession with age as the
women in the church. Separate by desire to have kids rather than age.
* People who are not consumers of the singles program product are the ones that
are organizing the events, and they simply do not understand. Singles need to get
involved in the creation of their activities.

Solutions:
* Firesides covering the following relevant topics by professionals:
~ How to ask someone on a date/to dance
~ How to say 'no thanks'
~ How to accept a 'no'
~ How to say 'yes'
~ Don't say 'no' if you mean 'yes, but later'
~ Don't say 'yes' if you think you are being nice by not saying 'no'
~ How to clearly show interest
~ How to recognize that someone is showing interest
~ Make someone a choice, not an option
~ Personal grooming and fitness (come on people)
~ How to be approachable at a dance (dancing in groups)
~ Teach people in the family wards to welcome the singles and not alienate
them, however inadvertently. The women are especially bad about this and
the inactivity rate with single adults is epidemic. Should be addressed in a
general conference talk.
* Pair up Stakes in 2-3 month circuits to facilitate cross pollination
* Maybe colored wrist bands to indicate your age in a 5 year window, just to make it
easier to identify more age appropriate people to talk to or dance with.
* Keep the groups small, 20-30 people so that you can effectively integrate them
* Start every social gathering with something like speed mingling, it is fast, easy to
understand, and a quick way to get to know new people and get out of your group.
* Have very regular activities to have actual fun so the above points will work
* Have the married families help out with childcare so singles can get out (home or
visiting teacher?)
* Create a "rescue packet" to get inactive singles back, this would have concise
information for web sites, facebook groups, emails, phone numbers, to help them
find activities and get involved in their area. If they get involved in activities, then
coming back to church will more likely follow.

There is an issue with men of all ages throughout society, the young cougar hunters and the old creepers. You cannot change this no matter what you do, that's why education on the part of everyone is the answer, not segregation. A policy of gently pulling aside "problem" people to counsel them on more appropriate behavior would be better than trying to manhandle entire programs that affect everyone

Advice

* Be Honest, not nice (don't say "yes" if you mean "no")

* Make someone a choice, not an option

* So, I was reading in some of the often overlooked parables that Jesus gave and found this one he gave to the disciples after they had dinner at Applebees one night. This is aimed at single adults and is the parable of the restaurant:

"You're looking at a menu, you can't decide between Steak, Lasagna and Swordfish. All very different, all equally enjoyable. You agonize over the choices until the restaurant closes and you go home hungry."

* when someone is talking are you listening or waiting to speak

* I often see singles say "I'm praying for HF (Heavenly Father) to bring me my EC (Eternal Companion)", on the womens side, they often refuse to ask a man out or even clearly show interest. Here is what is important to keep in mind. Just because you're praying to meet your EC, it doesn't mean that they are. So consider the scenario where you feel compelled to go to an event you wouldn't normally go to, and once there you see or hear someone talk that you feel drawn to. This could very well be the answer to your prayer, but this is YOUR prayer, not theirs. So it is now incumbent on YOU to approach that person. You prayed for it, the Holy Ghost nudged you in that direction, the stage is set, but if you sit there and don't continue to act on it, then you've missed the opportunity that you prayed for. You really can't pray for someone else to be drawn to you. You've got to do the work, you can't just pray and expect the pizza delivery boy to show up and be your EC, especially if you didn't even order a pizza.
About the author

I am a founder of this site and as of May 2015 I am happily married to a wonderful LDS woman. I spent my years in the singles system as a singles rep working to optimize events and maximize the effectiveness of people interacting and finding someone to love. I studied psychology for years and my years as a software and business consultant have made me very adept at understanding people and their motivations. I hope to help others find that same happiness that I have.