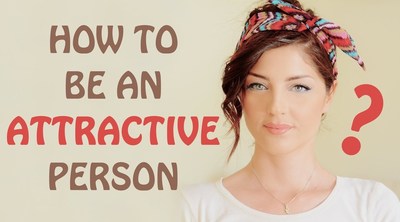 Acting attractive on the outside with your looks, body language, facial expressions, words, actions…is it important to dating? Should it be important? Well, it is if you want to…attract someone to date you. An important rule of thumb: looking, acting, and sounding attractive on the outside gives you more initial dating opportunities--more often with more people. It creates spark and butterflies. Conversely, being a quality person on the inside and treating your partner well is what gives your relationships, ideally your future marriage, longevity, stability, and durability. Essential as well, but not everything. So, both what is on the inside (character) and the outside (surface charms) of a person matters in different ways to a relationship. As it says in I Samuel 16:7, "…for the Lord seeth not as man seeth; for man looketh on the outward appearance, but the Lord looketh on the heart." In other words, the outward appearance and other superficialities naturally attracts a person, but the ultimate value of a person's quality person comes from what is inside. So, both play a role and both matter to dating.

Ways to Increase Your Attractiveness

*Improving your looks: There are many ways to improve your looks. Diet/supplements, exercise, a healthy sleep pattern, and weight loss (as needed) are the most important contributors to improving your looks, as well as boosting energy and health. Fashion, make up, hair style/cut, and perhaps even some plastic surgery/other services are extras that can enhance your looks as well. But diet, exercise, and weight loss seem to make the biggest overall differences for improvement. Please work on these efforts on a regular basis, always working to improve your looks. However, please do so paced, with moderation. Please do not obsess or develop body dysmorphia/body image problems. Don't overdo it. Just do your reasonable best. For more ideas on the physical universal beauty indicators to strive for, see https://www.ldsdimension.com/articles/universal-beauty-indicators-67/.

*Improving your words: How you talk to others matters. How you hold a conversation matters. Learn to initiate and engage in positive conversations. Learn to be a good listener. Look and act patient and interested in others as you speak with them. Speak with interest, caring, energy, and charm. Learn to flirt. Show kindness, consideration, and respect. Avoid arguments, criticism, and backbiting. Build others up instead of tearing them down. A good resource to help you with your conversational abilities is the book How to Win Friends and Influence People by Dale Carnegie (in either book or audio form).

*Improving your nonverbals: Nonverbals involve tone of voice, facial expressions, and body language. Aim to practice using a tone of voice that is civil, respectful, kind, and warm. Aim to brighten your facial expressions with kindness and warmth as well. Work to keep your body language open, non-threatening, and engaging. You can work on all of your non-verbals by practicing in the mirror and/or by making a video of yourself to refine how you are coming across. When you are more self-aware, it becomes easier to make adjustments accordingly. Many people don't realize that they are coming across poorly and unattractive in these ways. A good book to help you be more approachable and engaging is First Impressions by White and Demarais.

Final Thoughts

Finding a new relationship and dating is like a part-time job. It requires regular, continual efforts and awareness. Looking and acting attractive (warm, approachable, engaging, etc.) is a skill and choice you can better at, and is critical to getting initial dating opportunities. Where the relationships goes from there (i.e., how to have healthy, successful relationships) is for another discussion. But you have to get your foot into the door. You need to get initial opportunities. And you will as you work on and increase your attractiveness in these ways. It is worth it. Because "…neither is the man without the woman, neither the woman without the man, in the Lord" (1 Corinthians 11:11).

Sincerely,
Dr. G

INFO FOR READERS--
*To submit a question for a future Q & A column or to request a possible future article subject, contact me at drgilchrist@yahoo.com.

***Do you struggle with pornography or another addictive tendency? Do you struggle with eating issues or want to lose weight? Anxiety issues? Other issues, challenges, or problems? Consider my special custom hypnosis recording service for fellow LDS members only, available worldwide by online delivery. A powerful, effective, convenient tool for change. Learn more now at www.dr-rg.com/lds or email me questions at drgilchrist@yahoo.com. Completely private and confidential.
About the author

Hello, my name is Dr. Randy Gilchrist (aka "Dr. G"). I am a licensed clinical psychologist, a licensed marriage & family therapist, and a certified hypnotherapist in private practice in Roseville, CA (www.dr-rg.com), practicing since 1997. Also, I am happily married in the temple (Manti) since 1996 and have 4 sons. I am a volunteer writer and contributor to LDS Dimension. I use my training, education, and experience to share insights with LDS Dimension on all things of interest to the LDS dating community. Please read my articles and columns on this site to assist you in your online dating journey. Also, to be considered for an answer in a future Q and A column, please email me your dating/relationship oriented questions to drgilchrist@yahoo.com. Finally, I also offer a powerful, effective worldwide custom hypnosis recording service just for LDS Dimension members for weight loss, pornography, and many other issues of concern to those in the LDS dating community (please learn more now at www.dr-rg.com/lds; email me questions to drgilchrist@yahoo.com).