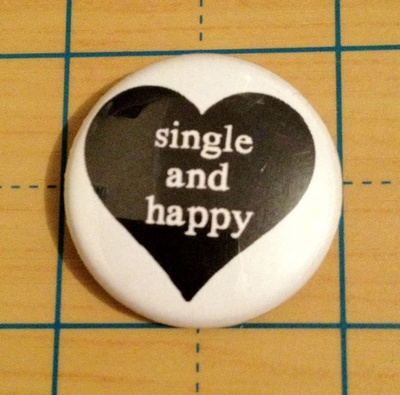 So, you are single and LDS. Perhaps you sometimes feel like an outsider compared to married members. You may or may have been previously married. You may or may not have kids. But either way, for whatever reason, you are currently single. Are you able to be happy as a single member? Yes. Absolutely. In this brief article, ideas will be given to help you be happy during your period of singlehood, however long it may be.

First of all, I want to make it clear that in general, you will have an easier time being happy as a single that you would if you were unhappily married to a spouse when the marriage is unhealthy and includes things like abuse, neglect, disrespect, etc. However, it is also easier to be happy as a married person when the marriage is basically healthy and happy. So, eventually finding and marrying into a future happy relationship is the ultimate goal. However, there are a number of things you can be doing to be as happy now. No need to put off your happiness.

Idea #1: Get your physical health together:

It is very difficult to feel happy when your physical health is run down. There are 3 main things you can do to support better health. 1) eat better, 2) exercise regularly, and 3) get into a good regular sleep schedule. A good book to give you helpful, research-based ideas on how to eat healthy as well as exercise well is called The New Abs Diet, or The New Abs Diet for Women, both by David Zinczenko, editor of Men's Health magazine. Another helpful book for exercise is Your Body is Your Barbell by BJ Gaddour. For ideas on promoting restful sleep, I recommend Restful Sleep by Deepak Chopra.

Idea #2: Strengthen your social connections:

Finding a new healthy person to date is an obvious suggestion. Beyond that recommendation, please continue connections with old friends, work to socialize and make new friends, and keep connections with your main and extended family members. Just do your best. When others reach out to you, that is a welcomed bonus. However, do not count on them to do so. You cannot expect it and if you do, you will often be disappointed when they do not do so. Instead, remember and apply the old saying: "if it is to be, it is up to me". Need some help with friends, socializing, and interpersonal connections? I recommend the classic book How to Win Friends and Influence People by Dale Carnegie.

Idea #3: Work on your personal issues:

Work out whatever psychological, emotional, relational pains, baggage, or hangups that you may have picked up to this point. Sources of this pain generally includes personal insecurities and hangups, family or origin issues, and past relationship wounds and trauma. Go talk to a qualified licensed clinical psychologist to work through these issues. To talk to an LDS psychotherapist, call the LDS Family Services. If you don't care to work with anyone within their system, you can also ask them for an LDS therapist referral in your local community.

Idea #4 Work on your spirituality:

The best way to be happy is to regularly recognize and feel the Spirit inside yourself. To qualify to feel the spirit, start with repentance. Repent of whatever big or little sins are blocking your access to feeling the Spirit. Beyond repentance, there are many additional things you can to feel the Spirit more. Pray often and ask for the Spirit, as well as to be happy. Regularly reads the scriptures, general conference talks, and other quality church publications. Attend 3 hours of church each week. Fulfill your callings. Attend the temple regularly or at least work towards getting your recommend. In short, do whatever you can do to feel the Spirit and you will be a much happier person.

Final Thoughts:

Being happy can be thought of as a choice and a skill. Follow these 4 suggestions and work to be happy. Don't expect others to make you happy. Remember, "if it is to be, it is up to me". Be happy single. And yet, continue to search for a quality future spouse at the same time for an eventual higher level of happiness. And remember, "…neither is the man without the woman, neither the woman without the man, in the Lord" (1 Corinthians 11:11).

Sincerely,
Dr. G

INFO FOR READERS--
*To submit a question for a future Q & A column or to request a possible future article subject, contact me at drgilchrist@yahoo.com.
**Do you struggle with pornography or another addictive tendency? Do you struggle with eating issues or want to lose weight? Anxiety issues? Other issues, challenges, or problems? Consider my special custom hypnosis recording service for fellow LDS members only, available worldwide by online delivery. A powerful, effective, convenient tool for change. Learn more now at www.dr-rg.com/lds or email me questions at drgilchrist@yahoo.com. Completely private and confidential.
About the author

Hello, my name is Dr. Randy Gilchrist (aka "Dr. G"). I am a licensed clinical psychologist, a licensed marriage & family therapist, and a certified hypnotherapist in private practice in Roseville, CA (www.dr-rg.com), practicing since 1997. Also, I am happily married in the temple (Manti) since 1996 and have 4 sons. I am a volunteer writer and contributor to LDS Dimension. I use my training, education, and experience to share insights with LDS Dimension on all things of interest to the LDS dating community. Please read my articles and columns on this site to assist you in your online dating journey. Also, to be considered for an answer in a future Q and A column, please email me your dating/relationship oriented questions to drgilchrist@yahoo.com. Finally, I also offer a powerful, effective worldwide custom hypnosis recording service just for LDS Dimension members for weight loss, pornography, and many other issues of concern to those in the LDS dating community (please learn more now at www.dr-rg.com/lds; email me questions to drgilchrist@yahoo.com).