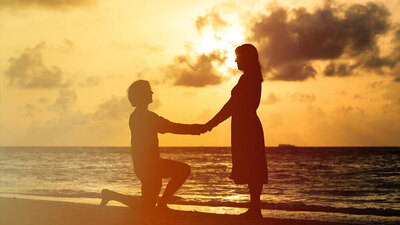 An area of challenge amongst single members of the Church of Jesus Christ of Latter-Day Saints is choice of spouse. When we choose to date, start a relationship, and marry someone, we pray about it in hopes of making the right decision. We are told to pray for guidance, direction, and inspiration. We learn we need to ask for help from the Spirit to let us know what is the right/best choice to make. So, what does that mean for the choice we ultimately make?

Ask for Guidance:

Here are some scriptures promoting the idea that we should pray for guidance, and how we will receive answers in return:

If any of you lack wisdom, let him ask of God, that giveth to all men liberally, and upbraideth not; and it shall be given him. But let him ask in faith, nothing wavering. For he that wavereth is like a wave of the sea driven with the wind and tossed.
--James 1:5-6

But, behold, I say unto you, that you must study it out in your mind; then you must ask me if it be right, and if it is right I will cause that your bosom shall burn within you; therefore, you shall feel that it is right. But if it be not right you shall have no such feelings, but you shall have a stupor of thought that shall cause you to forget the thing which is wrong; therefore, you cannot write that which is sacred save it be given you from me.
--Doctrine & Covenants 9:8-9

Ask, and it shall be given you; seek, and ye shall find; knock, and it shall be opened unto you: For every one that asketh receiveth; and he that seeketh findeth; and to him that knocketh it shall be opened. Or what man is there of you, whom if his son ask bread, will he give him a stone? Or if he ask a fish, will he give him a serpent? If ye then, being evil, know how to give good gifts unto your children, how much more shall your Father which is in heaven give good things to them that ask him?
--Matthew 7:7-11

How Receiving Answers Works:

When we pray about whether we should date/get into a relationship with/marry, we receive the Spirit in return to guide our decision. In addition to the "burning of the bosom" or "stupor of thought" described earlier in Doctrine & Covenants 9-9, here are other feelings we can receive that give us a feeling that pursuing a relationship towards more commitment is a good idea:

But the fruit of the Spirit is love, joy, peace, longsuffering, gentleness, goodness, faith, meekness, temperance: against such there is no law.
--Galatians 5:22-23

So when you pray and get these kind of positive feelings like this, should you pursue the relationship? And when you get a stupor of thought, does that mean you shouldn't continue with the relationship? Or if it seems you get neither of these responses from the Spirit when you pray, what does that mean? I don't know. That is between you and the Lord.

In my opinion, we can be in any relationship we choose. A positive spiritual feeling is encouraging, a stupor of thought leads one to perhaps end the relationship. Nevertheless, we as people are responsible for our decisions. Remember that key element of the Plan of Salvation (also known as the Plan of Happiness) is agency. We can date, have a relationship with, and marry anyone we choose. And based upon the character of who we choose and the choices we make to nurture that relationship as well, that is what will determine the outcome of that relationship. Not whether or not it we felt spiritually right through prayer to marry. If a relationship works or not, it is not the responsibility of God. It is us and the other person, period.

Final Thoughts:

In my opinion, a positive spiritual response to prayer about a relationship is encouraging and a green light to go forward, but not a guarantee. However, a negative answer to going forth in a relationship almost assuredly will lead to an eventually bad relationship experience. And again, since this is the plan of agency, it is up to us. So, pray, look for a positive answer to continue your relationship, but own your ultimate decision. Do not blame or put the responsibility of whether it works out or not on God. Again, the outcome of a relationship is determined by the 2 people involved. A promising relationship is only that, no guarantees. Choose wisely, do your best, and hope for the best. That is all we can do in our spousal search. And remember that "…neither is the man without the woman, neither the woman without the man, in the Lord."—1 Corinthians 11:1.

Dr. G
P.S. If you have any questions, comments, or a future article request for me, feel free to contact me at drgilchrist@yahoo.com.
About the author

Hello, my name is Dr. Randy Gilchrist (aka "Dr. G"). I am a licensed clinical psychologist, a licensed marriage & family therapist, and a certified hypnotherapist in private practice in Roseville, CA (www.dr-rg.com), practicing since 1997. Also, I am happily married in the temple (Manti) since 1996 and have 4 sons. I am a volunteer writer and contributor to LDS Dimension. I use my training, education, and experience to share insights with LDS Dimension on all things of interest to the LDS dating community. Please read my articles and columns on this site to assist you in your online dating journey. Also, to be considered for an answer in a future Q and A column, please email me your dating/relationship oriented questions to drgilchrist@yahoo.com. Finally, I also offer a powerful, effective worldwide custom hypnosis recording service just for LDS Dimension members for weight loss, pornography, and many other issues of concern to those in the LDS dating community (please learn more now at www.dr-rg.com/lds; email me questions to drgilchrist@yahoo.com).