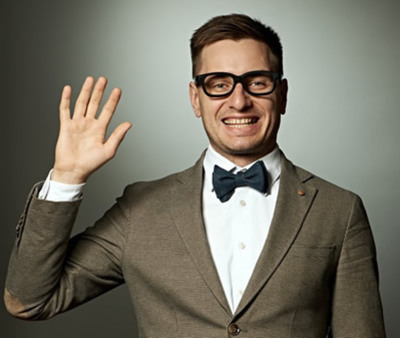 Over my years as a psychologist, I have heard a common complaint from women: why can't I find a nice, decent, stable guy that will treat me well? And then I have also heard nice, decent, stable guys also complain that women usually friendzone them, ignore them, and/or otherwise treat them as if them are invisible. So, what is going on here? Why is this happening? Are women not interested in what they say they are interested in? Although there are probably several reasons for this phenomenon, my main theory for this is that most nice men are…boring to women. These nice guys often lack the intrigue, fun, stimulation, drama, unpredictability, and overall excitement that a bad boy can generate at a much higher level. So, if a guy is nice, decent, and stable, what are they to do? And if you are a woman struggles being attracted to a nice guy, what are you to do?

My short answer to both of these questions is this: men—work to make yourself more attractive and appealing. And women, work to find a nice, decent, stable guy that also has enough of the attractive, appealing traits too (although it will probably still be less than most bad boys)—traits that I will discuss below. And ladies, remember that excitement, the tingles, and butterflies are fun and attractive but if that is primarily what you are looking to as you choose a man, please…don't. I suggest instead to look more broadly for a balance and combination of enough man with enough attractiveness, but who also possesses positive character traits and treats you well. Because choosing a bad boy will always end badly. Always. He will not change for you. Please don't ever choose a guy like that. For more information on bad boys and why some women choose them, see this previous article: https://www.ldsdimension.com/articles/being-attracted-to-the-bad-boy-54/.

Developing Attractive Attributes as Nice Guys:

Looks: women are wired to be visual and be attracted to certain physical traits in a man. So men, please work out, eat right, lose weight, and look as physically attractive and healthy as possible. You don't need to be a model, just work to look your best. Research shows that the following physical attributes that women are most attracted to in men include the following: a relatively narrow waist, a V-shaped torso, and broad shoulders, being taller than they are (sorry men, no fix on that one), masculine facial features (which increase with exercise and at proper weight), a good waist to chest ratio: bigger shoulders, chest, and upper back plus a slim waist area, a flat abdomen, moderate body/facial hair, and a firm jawline. Basically, a young Chris Hemsworth. No pressure, haha. Again, just do your best to improve yourself within reason. Make a regular effort in this area.

For more information on the universal beauty traits that women like and are attracted to, read my article here: https://www.ldsdimension.com/articles/what-women-are-physically-attracted-to-313.

*Money: no surprise here. Having a good, stable income matters. Having savings, investments, and general financial security helps a man be more attractive. So whatever money you are bringing in, always try to find a way to better yourself. Either work to move up in your company, get the credentials and experience to move on to a better paying job or career, and/or add an extra entrepreneurial effort to your income stream. If you read the Proclamation to the World, it says right a man is to primarily provide for his family. So, women are wired to be attracted to that and that is not going to change. If you need some help in this area I recommend listening to the following audiobook: Secrets of the Millionaire Mind by T Harv Eker.

*Confidence: confidence is naturally attractive to women. So, work to beef up your confidence as much as possible. Work on having more positive self-talk. Also, keep a better posture, look others in the eyes, and carry yourself well. A lack of confidence is a huge turn off to women, whereas high confidence is a turn on. For some good ideas on how to strengthen confidence and self-esteem, I recommend listening to the following hypnosis sessions at night from Hypnosis Downloads: https://www.hypnosisdownloads.com/hypnosis-packs/confidence-building. You also may want to consider listening to this audiobook by Louise Hay: How to Love Yourself.

*Conversational Abilities: Women are verbal creatures. Therefore, when a guy has strong conversational abilities, that is a very attractive plus. There is an old saying: men fall in love with their eyes, women fall in love with their ears. Largely true. So please work on your ability to initiate and maintain good conversations, stimulating, interesting conversations. That includes being a good listener, having a good sense of humor, and being able to flirt as well. For more information on strengthening your conversation skills, check out these previous articles on the subject:
https://www.ldsdimension.com/articles/dating-small-talk-160/
https://www.ldsdimension.com/articles/listening-skills-14/
https://www.ldsdimension.com/articles/flirting-skills-107/
You also may consider reading or listening to this classic communication skills book: How to Win Friends and Influence People by Dale Carnegie.

Final Thoughts:

To be clear, it is not that nice guys are necessarily boring, it's that boring nice guys are boring. Guys, please still be nice. And women, please look for an choose a nicer guy. But either way, guys can also work to improve their attractiveness in spite of their niceness by regularly strengthening and developing the 4 traits and attributes reviewed in this article. And women can look for a nicer guy with enough of these traits. This is not often talked about much in church. However, I promise these traits matter to help women be attracted to you. Please work on their development these particular traits accordingly to watch your attractiveness increase. And remember that "…neither is the man without the woman, neither the woman without the man, in the Lord." (1 Corinthians 11:1).

Dr. G
P.S. If you have any questions, comments, or a future article request for me, feel free to contact me at drgilchrist@yahoo.com.
About the author

Hello, my name is Dr. Randy Gilchrist (aka "Dr. G"). I am a licensed clinical psychologist, a licensed marriage & family therapist, and a certified hypnotherapist in private practice in Roseville, CA (www.dr-rg.com), practicing since 1997. Also, I am happily married in the temple (Manti) since 1996 and have 4 sons. I am a volunteer writer and contributor to LDS Dimension. I use my training, education, and experience to share insights with LDS Dimension on all things of interest to the LDS dating community. Please read my articles and columns on this site to assist you in your online dating journey. Also, to be considered for an answer in a future Q and A column, please email me your dating/relationship oriented questions to drgilchrist@yahoo.com. Finally, I also offer a powerful, effective worldwide custom hypnosis recording service just for LDS Dimension members for weight loss, pornography, and many other issues of concern to those in the LDS dating community (please learn more now at www.dr-rg.com/lds; email me questions to drgilchrist@yahoo.com).