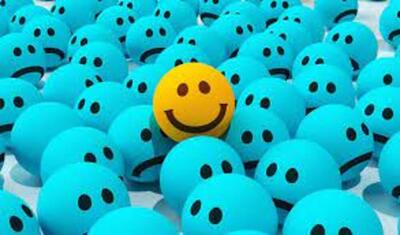 When will you get married? Will you even get married in this life—or will it be in the next life? The results will vary. However, whenever you marry it is important to work to be as happy as possible. Being happy while single will prepare you to also be happy when married. Your spouse does not "make you happy". However, a spouse in a healthy marriage will help a happy person become happier. In addition, when you are happy now, you also make yourself more attractive, fun, and enjoyable as a person to date and start a relationship with at a future time. So, the question becomes, how do you make yourself happy? The purpose of this little article is to review some key factors helping a person to become happy and to stay happy.

Elements of happiness:

*Spirituality: When you are in a good place spiritually, you will be happy. This is the most important factor of happiness. To be spiritually worthy means you have the Spirit always with you as promised in the sacrament prayers. Simply put, having the Spirit with is essential for true and genuine happiness. Accordingly in the scriptures we learn that "…the fruit of the Spirit is love, joy, peace, longsuffering, gentleness, goodness, faith, meekness, temperance." –Galatians 5:22-23. In addition, we also learn that "…wickedness never was happiness." –Alma 41:10. So in short, happiness requires spiritual righteousness.

To become spiritually righteous and worthy, making regular positive choices is required. These include a combination of reading the scriptures, praying, attending church regularly, fulfilling callings, being temple worthy, and, when holding an a current temple recommend, attending the temple regularly. For more information on being spiritually worthy and, more specifically, being temple worthy, refer to this conference talk reviewing the current recommend questions: https://newsroom.churchofjesuschrist.org/article/october-2019-general-conference-temple-recommend.

*Physical Health: It makes sense that you are physically healthy, that adds strongly to your happiness levels. Conversely, when you are feeling physically off it is natural to feel emotionally down as well. Basic physical health involves taking care of your body through eating healthy, exercising regularly, maintaining a good sleep schedule, and maintaining a healthy weight. It also involves avoiding drugs, alcohol, tobacco, and following other elements of the Word of Wisdom (see Doctrine & Covenants 89).

*Self: There are several personal areas that also can notably add to happiness. Education, career, earning money, and staying on top of bills is important to happiness to maintain control and self-sufficiency. Having hobbies, learning new information, and stimulating your mind helps as well. Finally, utilizing self-help materials (books, audios, and videos) helping to improve yourself in whatever areas you may be lacking in helps too. Please also get therapy with a professional as needed. Two decent self-help resources you may wish to refer to as you work on your health and happiness include Happier by Tal Ben-Shahar, as well as The 7 Habits of Highly Effective People by Stephen Covey.

*Social Life: engaging in healthy relationships in your dating life, with friends, family members, coworkers, and others boosts happiness levels. We are meant to be social creatures and we need each other to boost emotions. One challenge of today is that because of technology, smart phones, working from home, and many other current developments, we are often more isolated than any people before. Whether you are introverted or extroverted, please work on this important area in your life. Loneliness can be lessened with regular efforts made in the social aspect of your life.

To help yourself socialize better, consider utilizing self-help materials to give you additional social tips, tools, and skills to boost your social success. One reliable and helpful resource is the classic people skills book, "How to Win Friends and Influence People" by Dale Carnegie. In addition, consider listening regularly to related hypnosis audio sessions emphasizing improving social skills and relationships. A good resource for social skills related hypnosis can be found here: https://www.hypnosisdownloads.com/hypnosis-packs/social-skills. Other relationship-oriented hypnosis sessions can also be found at: https://www.hypnosisdownloads.com/relationship-problems.

Medications or Supplements: mood boosting and stabilizing through taking a helpful medication can help a person to be happier (or at least in a better mood). Same with certain supplements. To get a medication to better improve your mood, meet with your primary care physician (MD) or a psychiatrist specialist. If you prefer an over-the-counter supplement to boost your mood, here are a few you may want to consider taking: "Sunny Mood" by Irwin Naturals, "Stress Comfort Mood Booster" by Nature's Plus, or either 5HTP or SAM-E (2 natural anti-depressants, available in many forms).

Final Thoughts:

If you think of happiness as a choice, a skill, and a goal to commit to, rather than something some lucky people are born with, you will do better while seeking happiness. Please be proactive in this effort and work towards it each day. The several focuses in this article, when fulfilled, will help you to be as happy and healthy as you can reasonably can in this life. This will prepare you to be happy now, for however long you are single, and after you marry in the future. And remember that ultimately, "…neither is the man without the woman, neither the woman without the man, in the Lord."—1 Corinthians 11:1.

Dr. G
P.S. If you have any questions, comments, or a future article request for me, feel free to contact me at drgilchrist@yahoo.com.
About the author

Hello, my name is Dr. Randy Gilchrist (aka "Dr. G"). I am a licensed clinical psychologist, a licensed marriage & family therapist, and a certified hypnotherapist in private practice in Roseville, CA (www.dr-rg.com), practicing since 1997. Also, I am happily married in the temple (Manti) since 1996 and have 4 sons. I am a volunteer writer and contributor to LDS Dimension. I use my training, education, and experience to share insights with LDS Dimension on all things of interest to the LDS dating community. Please read my articles and columns on this site to assist you in your online dating journey. Also, to be considered for an answer in a future Q and A column, please email me your dating/relationship oriented questions to drgilchrist@yahoo.com. Finally, I also offer a powerful, effective worldwide custom hypnosis recording service just for LDS Dimension members for weight loss, pornography, and many other issues of concern to those in the LDS dating community (please learn more now at www.dr-rg.com/lds; email me questions to drgilchrist@yahoo.com).