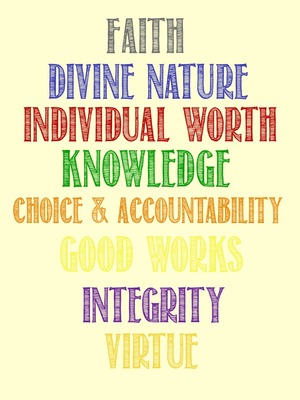 by Dr. Randy Gilchrist, LDS Psychologist
www.LDSdimension.com (FREE LDS online dating site)

In today's world, the media, society, and academics often create and perpetuate antagonism between the genders, especially from women towards men. That which is considered masculine is often promoted and sought after by women over men. Masculine traits have been deemed by society as the desirable traits for women to ascribe to, and feminine traits have been deemed the weak traits, and have been left for men to assume more of to make way for women. Simply put, modern day feminism today is mostly about promoting more opportunities and advantages for women, while at the same time lessening opportunities and advantages for men: academically, career-wise, money-wise, legally, etc. It is no longer about "fair" or "equal" today, just about more for women in every way.

To be clear, traditional masculinity has included (but is not limited to) the following traits: aggression/assertiveness, competition, task and goal orientation, power/control/status seeking, behavioral/physicality, stimulus-response, providing, protecting, linear thoughts, and focuses/singular tasking. Traditional feminine traits, on the other hand consist of the following: passivity/accommodation, nurturance, compassion, empathy, connection, verbalization, emotionality, nesting, and complex/broad interconnected thoughts and focuses/multitasking
(Source: 1993 Bem Sex Role Inventory). Society today would promote the idea that these gender traits are simply socialized traits and can evenly be assumed by women like how man have exhibited for thousands of years, and that masculine traits are the prized traits. Conversely, feminine traits are devalued and deemed inferior at the same time and that it is men's turn to deal with their hassles.

Church Views

As members of the Church of Jesus Christ of Latter Day Saints, we know better and have a different understanding of the important roles of women, and femininity in general for that matter. This gender confusion was a part of the famous scripture from Isaiah where he pronounced about the latter days, "Woe unto them that call evil good, and good evil; that put darkness for light, and light for darkness; that put bitter for sweet, and sweet for bitter!" (Isaiah 5:20).

In a famous quote from Sister Margaret D. Nadauld in her October 2000 General Conference talk, "The Joy of Womanhood", she challenges modern day feminism and gender role confusion with these classic words:

Daughters of God know that it is the nurturing nature of women that can bring everlasting blessings, and they live to cultivate this divine attribute. Surely when a woman reverences motherhood, her children will arise up and call her blessed (see Prov. 31:28).

Women of God can never be like women of the world. The world has enough women who are tough; we need women who are tender. There are enough women who are coarse; we need women who are kind. There are enough women who are rude; we need women who are refined. We have enough women of fame and fortune; we need more women of faith. We have enough greed; we need more goodness. We have enough vanity; we need more virtue. We have enough popularity; we need more purity.

Oh, how we pray that every young woman will grow up to be all the wonderful things she is meant to be. We pray that her mother and father will show her the right way. May daughters of God honor the priesthood and sustain worthy priesthood holders. May they understand their own great capacity for strength in the timeless virtues that some would scoff at in a modern, liberated world for women.

If you have not yet read the full version of this wonderful talk, you can do so here: https://www.lds.org/general-conference/2000/10/the-joy-of-womanhood?lang=eng. I strongly encourage it.

Final Thoughts

As members of The Church of Jesus Christ of Latter Day Saints, both men and women need to stand up, support, and sustain the traditional gender attributes of women and femininity, especially nurturance and motherhood. We live "in the world", but are not to be "of the world". And if the prideful people in the "great and spacious building" mock and revile such Godly ideals, just remember that this worldly building and its worldly ideas are doomed to fall. And "great will be the fall thereof" (1 Nephi 11:36). Do not buy into such worldly gender attitudes and philosophy. Men and women are designed a certain way and are to perform certain traditional roles assigned before the foundation of the world. And men/masculinity and women/femininity are designed to complement each other and work together. For "…neither is the man without the woman, neither the woman without the man, in the Lord" (1 Corinthians 11:11).

Sincerely,
Dr. G

INFO FOR READERS--
*To submit a question for a future Q & A column or to request a possible future article subject, contact me at drgilchrist@yahoo.com.

**Do you struggle with pornography or another addictive tendency? Do you struggle with eating issues or want to lose weight? Anxiety issues? Other issues, challenges, or problems? Consider my special custom hypnosis recording service for fellow LDS members only, available worldwide by online delivery. A powerful, effective, convenient tool for change. Learn more now at www.dr-rg.com/lds or email me questions at drgilchrist@yahoo.com. Completely private and confidential.
About the author

Hello, my name is Dr. Randy Gilchrist (aka "Dr. G"). I am a licensed clinical psychologist, a licensed marriage & family therapist, and a certified hypnotherapist in private practice in Roseville, CA (www.dr-rg.com), practicing since 1997. Also, I am happily married in the temple (Manti) since 1996 and have 4 sons. I am a volunteer writer and contributor to LDS Dimension. I use my training, education, and experience to share insights with LDS Dimension on all things of interest to the LDS dating community. Please read my articles and columns on this site to assist you in your online dating journey. Also, to be considered for an answer in a future Q and A column, please email me your dating/relationship oriented questions to drgilchrist@yahoo.com. Finally, I also offer a powerful, effective worldwide custom hypnosis recording service just for LDS Dimension members for weight loss, pornography, and many other issues of concern to those in the LDS dating community (please learn more now at www.dr-rg.com/lds; email me questions to drgilchrist@yahoo.com).