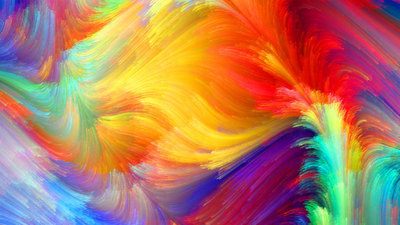 When going out on a date, the fashion choice you select sends multiple messages to the other person. One message comes from the color of clothing you wear. Different color choices convey different meanings, set different moods, or create different impressions. In this article, a brief review will be given of the different messages sent out by different colors in the outfits you may choose to wear.

Now, the colors you wear probably won't be as important as, say, how you communicate with the other or how you treat the other person. Nevertheless, it is still a notable part of what you are communicating to the other person about yourself. Being aware of these impressions can help you with your next date. The goal: send out the messages about yourself that you would like to send about yourself and don't send out messages you don't wish to convey. Create the mood and atmosphere you want.

Warm Colors:

Warm colors include red, orange, and yellow, and variations of those three colors. These are the colors of fire, of fall leaves, and of sunsets and sunrises, and are generally energizing, passionate, and positive.

Red and yellow are both primary colors, with orange falling in the middle (making it a secondary color), which means warm colors are all truly warm and aren't created by combining a warm color with a cool color. Use warm colors in your designs to reflect passion, happiness, enthusiasm, and energy.

Red: Red is a very hot color. It's associated with fire, violence, and warfare. It's also associated with love and passion. In history, it's been associated with both the Devil and Cupid. Red can actually have a physical effect on people, raising blood pressure and respiration rates. It's been shown to enhance human metabolism, too.

Red can be associated with anger, but is also associated with importance (think of the red carpet at awards shows and celebrity events). Red also indicates danger (the reason stop lights and signs are red, and that warning labels are often red).

In design, red can be a powerful accent color. It can have an overwhelming effect if it's used too much in designs, especially in its purest form. It's a great color to use when power or passion want to be portrayed in the design. Red can be very versatile, though, with brighter versions being more energetic and darker shades being more powerful and elegant.

Orange: Orange is a very vibrant and energetic color. In its muted forms it can be associated with the earth and with autumn. Because of its association with the changing seasons, orange can represent change and movement in general. Orange is also strongly associated with creativity.

Because orange is associated with the fruit of the same name, it can be associated with health and vitality. In designs, orange commands attention without being as overpowering as red. It's often considered more friendly and inviting, and less in-your-face.

Yellow: Yellow is often considered the brightest and most energizing of the warm colors. It's associated with happiness and sunshine. Yellow can also be associated with deceit and cowardice, though (calling someone yellow is calling them a coward).

Yellow is also associated with hope, as can be seen in some countries when yellow ribbons are displayed by families who have loved ones at war. Yellow is also associated with danger, though not as strongly as red.

In your designs, bright yellow can lend a sense of happiness and cheerfulness. Softer yellows are commonly used as a gender-neutral color for babies (rather than blue or pink) and young children. Light yellows also give a more calm feeling of happiness than bright yellows. Dark yellows and gold-hued yellows can sometimes look antique and be used in designs where a sense of permanence is desired.

Cool Colors:

Cool colors include green, blue, and purple, are often more subdued than warm colors. They are the colors of night, of water, of nature, and are usually calming, relaxing, and somewhat reserved.

Blue is the only primary color within the cool spectrum, which means the other colors are created by combining blue with a warm color (yellow for green and red for purple).

Because of this, green takes on some of the attributes of yellow, and purple takes on some of the attributes of red. Use cool colors in your designs to give a sense of calm or professionalism.

Green:

Green is a very down-to-earth color. It can represent new beginnings and growth. It also signifies renewal and abundance. Alternatively, green can also represent envy or jealousy, and a lack of experience. Green has many of the same calming attributes that blue has, but it also incorporates some of the energy of yellow. In design, green can have a balancing and harmonizing effect, and is very stable.

It's appropriate for designs related to wealth, stability, renewal, and nature. Brighter greens are more energizing and vibrant, while olive greens are more representative of the natural world. Dark greens are the most stable and representative of affluence.

Blue:

Blue is often associated with sadness in the English language. Blue is also used extensively to represent calmness and responsibility. Light blues can be refreshing and friendly. Dark blues are more strong and reliable. Blue is also associated with peace and has spiritual and religious connotations in many cultures and traditions (for example, the Virgin Mary is generally depicted wearing blue robes).

The meaning of blue is widely affected depending on the exact shade and hue. In design, the exact shade of blue you select will have a huge impact on how your designs are perceived. Light blues are often relaxed and calming. Bright blues can be energizing and refreshing. Dark blues, like navy, are excellent for corporate sites or designs where strength and reliability are important.

Purple:

In ancient times, the dyes used for creating purple hues were extracted from snails and were very expensive, so only royals and the very wealthy could afford them.
Purple is a combination of red and blue and takes on some attributes of both. It's associated with creativity and imagination, too.

Interestingly, in Thailand, purple is the color of mourning for widows. Dark purples are traditionally associated with wealth and royalty, while lighter purples (like lavender) are considered more romantic. In design, dark purples can give a sense wealth and luxury. Light purples are softer and are associated with spring and romance.

Neutral Colors:

Whites, blacks, browns, and grays are more neutral, non-flashy colors. They convey safety, security, and a more conservative fashion choice. They also may come across as safe and non-threatening. Other messages sent by wearing these colors are non-flamboyant, lower energy, and possible non-risk taker. Neutral colors are acceptable fashion choices but are less likely to lead you to stand out or trigger a deeper mood or reaction in the other person. Therefore if you mix in some neutral colors with some warm or cool colors, that is usually best. But if you have no warm or cool colors in your outfit and your outfit is completely neutral, you may come across as low energy or boring. So please be careful and keep that in mind.

*Reference Source: https://www.smashingmagazine.com/2010/01/color-theory-for-designers-part-1-the-meaning-of-color/

Final Thoughts:

In this quick review of color and mood, the goal was to help you think a bit deeper as you decide what to wear on your dates and outings in the future. What you wear sends a message about you. Make sure you are sending the right message about yourself, hopefully the one you wish to convey. When you do, this can add to dating success and start you off on the right foot. First impressions matter, and so do ongoing impressions. Be more aware of how you are coming across to the other to maximize your dating and relationship success. The colors you wear are a part of that. Give yourself every advantage. And remember that "…neither is the man without the woman, neither the woman without the man, in the Lord."—1 Corinthians 11:11.

Dr. G
P.S. If you can questions, comments, or a future article request for me, feel free to contact me at drgilchrist@yahoo.com.
About the author

Hello, my name is Dr. Randy Gilchrist (aka "Dr. G"). I am a licensed clinical psychologist, a licensed marriage & family therapist, and a certified hypnotherapist in private practice in Roseville, CA (www.dr-rg.com), practicing since 1997. Also, I am happily married in the temple (Manti) since 1996 and have 4 sons. I am a volunteer writer and contributor to LDS Dimension. I use my training, education, and experience to share insights with LDS Dimension on all things of interest to the LDS dating community. Please read my articles and columns on this site to assist you in your online dating journey. Also, to be considered for an answer in a future Q and A column, please email me your dating/relationship oriented questions to drgilchrist@yahoo.com. Finally, I also offer a powerful, effective worldwide custom hypnosis recording service just for LDS Dimension members for weight loss, pornography, and many other issues of concern to those in the LDS dating community (please learn more now at www.dr-rg.com/lds; email me questions to drgilchrist@yahoo.com).