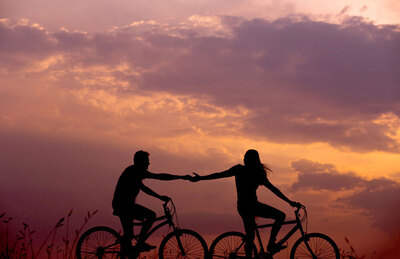 Being attracted to one another is a good indicator of a positive future sex life in marriage. Therefore, such infatuation feelings can be useful and helpful. However, infatuation needs to not be the main emphasis in the relationship because it isn't enough. Relationships need more. Instead, when a spiritual emphasis primarily exists with a couple instead, the future prospects of an eternal relationship are much more positive. However, this can be especially difficult to determine and differentiate when dating. It can be hard to know if the main feelings a couple are experiencing are spiritual or if the infatuation feelings are really the emphasis of the relationship. So, how does one differentiate between these two powerful forces?

Tips to Differentiate the Spirit from Infatuation:

First of all, the infatuation and excitement feelings bringing a couple together are positive, important, and serve a useful function. So I don't want to say anything negative about infatuation feelings, as long as the law of chastity is kept. However, just because someone is exciting to be with doesn't necessarily mean it is a good relationship to commit to. A good formula for commitment is having a mixture of both feelings: the Spirit and infatuation. However, between the two forces, having the Spirit together and keeping a spiritual emphasis is the more important element for future health and happiness. So differentiating what is the Spirit versus infatuation is essential. As is having both elements in a relationship.

*Fruits of the Spirit: One good way to know you are feeling true spiritual feelings comes when the couple possesses the fruits of the Spirit. When these feelings exist within a couple, this is a good sign. We learn from Paul in the New Testament what some of the fruits (or feelings) of the Spirit are: "But the fruit of the Spirit is love, joy, peace, longsuffering, gentleness, goodness, faith, meekness, temperance: against such there is no law."—Galatians 5:22-23. Therefore, if these are the primary feelings evoked when a couple is with each other, that is a good sign of a truly loving, spiritual relationship.

*Offenses to the Spirit are Minimal or Absent: When feelings and actions that are contrary to the Spirit and even offensive to the Spirit are regularly present in a relationship, that is a warning and indicator that this is a relationship more based on infatuation and hormones than spiritually based love. There are many scriptures that illustrate what feelings and attributes are offensive to the Spirit. Here are a couple: "If we live in the Spirit, let us also walk in the Spirit. Let us not be desirous of vain glory, provoking one another, envying one another."—Galatians 5:25-26.

In addition, we learn the following: "This know also, that in the last days perilous times shall come. For men shall be lovers of their own selves, covetous, boasters, proud, blasphemers, disobedient to parents, unthankful, unholy, without natural affection, trucebreakers, false accusers, incontinent, fierce, despisers of those that are good, traitors, heady, highminded, lovers of pleasures more than lovers of God; having a form of godliness, but denying the power thereof: from such turn away. For of this sort are they which creep into houses, and lead captive silly women laden with sins, led away with divers lusts, ever learning, and never able to come to the knowledge of the truth."—2 Timothy 3:1-7.

In sum, such behaviors and attitudes are offensive to the Spirit. And act as signs that a relationship is unhealthy, not based on a positive spiritual basis, and may not be a good idea to continue. Know that when such actions and attitudes exist, the Spirit is chased away and the relationship is mostly infatuation only.

*Look at what is emphasized in the relationship: What is the main content of the speech and actions occurring when together in the relationship? Are words and actions towards each other respectful? Are sexual boundaries respected? Are spiritual topics regular focuses of interactions? Are prayers shared together? Is church attended together? Or on the other hand, are interactions overly focused on sexual focuses, superficial topics, materialism, contentions, insecurities, or arguments? There is an old saying: "we are what we do". Said another way, A relationship is how its partners treat each other most of the time across most situations. What they talk to each other about. What they regularly do together. What usually happens when they interact. How well they get along.

Final Thoughts:

Physical attraction is important in a relationship. However, if a relationship is spiritually based and includes the Holy Ghost strongly in their interactions, this is a good indicator of a healthy, positive relationship with eternal potential. I recommend looking for and emphasizing a spiritual focus in your relationships for the best assurance of health and happiness. On the other hand, when these spiritual focuses are lacking or absent, it may be best to move on to greener pastures and better opportunities. And remember that "…neither is the man without the woman, neither the woman without the man, in the Lord."—1 Corinthians 11:11.

Dr. G
P.S. If you have any questions, comments, or a future article request for me, feel free to contact me at drgilchrist@yahoo.com.
About the author

Hello, my name is Dr. Randy Gilchrist (aka "Dr. G"). I am a licensed clinical psychologist, a licensed marriage & family therapist, and a certified hypnotherapist in private practice in Roseville, CA (www.dr-rg.com), practicing since 1997. Also, I am happily married in the temple (Manti) since 1996 and have 4 sons. I am a volunteer writer and contributor to LDS Dimension. I use my training, education, and experience to share insights with LDS Dimension on all things of interest to the LDS dating community. Please read my articles and columns on this site to assist you in your online dating journey. Also, to be considered for an answer in a future Q and A column, please email me your dating/relationship oriented questions to drgilchrist@yahoo.com. Finally, I also offer a powerful, effective worldwide custom hypnosis recording service just for LDS Dimension members for weight loss, pornography, and many other issues of concern to those in the LDS dating community (please learn more now at www.dr-rg.com/lds; email me questions to drgilchrist@yahoo.com).