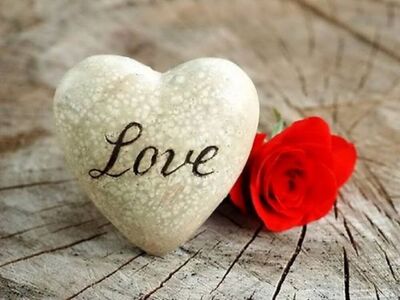 The word "love" is mentioned regularly in the scriptures and by the general authorities. And love is an essential, key component of a happy, successful marriage. But what exactly does love mean? Especially in a Godly, spiritual, religious sense? And how can this kind of love be shown between man and woman? In this little article, the idea of love will be examined, along with some ideas on how love can be shown in a marriage.

Ideas on Love:

*Definition of love: In the online dictionary, love is defined by the Merriam-Webster Dictionary as follows:
(1): strong affection for another arising out of kinship or personal ties
(2): attraction based on sexual desire
(3): affection based on admiration, benevolence, or common interests
(4): warm attachment, enthusiasm, or devotion
(5): a beloved person
(6): unselfish loyal and benevolent concern for the good of another
(7): an amorous episode or sexual embrace
(Source: https://www.merriam-webster.com/dictionary/love)

*Scriptural definition of love:
Deep devotion and affection. Love for God includes devotion, adoration, reverence, tenderness, mercy, forgiveness, compassion, grace, service, gratitude, kindness. The greatest example of God's love for His children is found in the infinite Atonement of Jesus Christ.
(Source: https://www.churchofjesuschrist.org/study/scriptures/gs/love?lang=eng)

*Scriptures on love (with implications on being a good spouse):

Greater love hath no man than this, that a man lay down his life for his friends.
--John 15:13

Husbands, love your wives, even as Christ also loved the church, and gave himself for it.
--Ephesians 5:25

Ye have heard that it hath been said, Thou shalt love thy neighbor, and hate thine enemy. But I say unto you, Love your enemies, bless them that curse you, do good to them that hate you, and pray for them which despitefully use you, and persecute you.
--Matthew 5:43-44

Jesus said unto him, Thou shalt love the Lord thy God with all thy heart, and with all thy soul, and with all thy mind. This is the first and great commandment. And the second is like unto it, Thou shalt love thy neighbor as thyself. On these two commandments hang all the law and the prophets.
--Matthew 22:37-40

A friend loveth at all times.
--Proverbs 17:17

If ye love me, keep my commandments.
--John 14:15

…by love serve one another.
--Galatians 5:13

Husbands, love your wives, and be not bitter against them.
--Colossians 3:19

Love not the world, neither the things that are in the world. If any man love the world, the love of the Father is not in him.
--1 John 2:15

Wherefore, ye must press forward with a steadfastness in Christ, having a perfect brightness of hope, and a love of God and of all men.
--2 Nephi 31:20

There was no contention because of the love of God which did dwell in the hearts of the people.
--4 Ne. 1:15.

But charity is the pure love of Christ, and it endureth forever; and whoso is found possessed of it at the last day, it shall be well with him.
--Moroni 7:47

Reproving betimes with sharpness, when moved upon by the Holy Ghost; and then showing forth afterwards an increase of love toward him whom thou hast reprove, lest he esteem thee to be his enemy.
--Doctrine & Covenants 121:43

*President Nelson's suggestions to have and strengthen a loving marriage:

Let us consider specific actions that would strengthen a marriage. I will offer sample suggestions and invite each couple privately to ponder them and adapt them as needed to their own particular circumstances. My suggestions use three action verbs: to appreciate, to communicate, and to contemplate.

To appreciate—to say "I love you" and "thank you"—is not difficult. But these expressions of love and appreciation do more than acknowledge a kind thought or deed. They are signs of sweet civility. As grateful partners look for the good in each other and sincerely pay compliments to one another, wives and husbands will strive to become the persons described in those compliments.

Suggestion number two—to communicate well with your spouse—is also important. Good communication includes taking time to plan together. Couples need private time to observe, to talk, and really listen to each other. They need to cooperate—helping each other as equal partners. They need to nurture their spiritual as well as physical intimacy. They should strive to elevate and motivate each other. Marital unity is sustained when goals are mutually understood. Good communication is also enhanced by prayer. To pray with specific mention of a spouse's good deed (or need) nurtures a marriage.

My third suggestion is to contemplate. This word has deep meaning. It comes from Latin roots: con, meaning "with," and templum, meaning "a space or place to meditate." It is the root from which the word temple comes. If couples contemplate often—with each other in the temple—sacred covenants will be better remembered and kept. Frequent participation in temple service and regular family scripture study nourish a marriage and strengthen faith within a family. Contemplation allows one to anticipate and to resonate (or be in tune) with each other and with the Lord. Contemplation will nurture both a marriage and God's kingdom. The Master said, "Seek not the things of this world but seek ye first to build up the kingdom of God, and to establish his righteousness, and all these things shall be added unto you."

I invite each marital partner to consider these suggestions and then determine specific goals to nurture your own relationship. Begin with sincere desire. Identify those actions needed to bless your spiritual unity and purpose. Above all, do not be selfish! Generate a spirit of selflessness and generosity. Celebrate and commemorate each day together as a treasured gift from heaven.
--Source: https://www.churchofjesuschrist.org/study/general-conference/2006/04/nurturing-marriage?lang=eng

Final Thoughts:

Love can be thought of as both a noun and a verb. In other words, love is both a thing, as well as an action. Love is the key in our relationships with God, our fellow beings, and especially in marital relationships. Please consider the ideas and definitions of love here and apply them personally and relationally. As you are filled with love and share your love with others, you become more Christlike and to best nurture a future loving relationship and marriage with a spouse someday. And remember that "…neither is the man without the woman, neither the woman without the man, in the Lord."—1 Corinthians 11:1.

Dr. G
P.S. If you have any questions, comments, or a future article request for me, feel free to contact me at drgilchrist@yahoo.com.
About the author

Hello, my name is Dr. Randy Gilchrist (aka "Dr. G"). I am a licensed clinical psychologist, a licensed marriage & family therapist, and a certified hypnotherapist in private practice in Roseville, CA (www.dr-rg.com), practicing since 1997. Also, I am happily married in the temple (Manti) since 1996 and have 4 sons. I am a volunteer writer and contributor to LDS Dimension. I use my training, education, and experience to share insights with LDS Dimension on all things of interest to the LDS dating community. Please read my articles and columns on this site to assist you in your online dating journey. Also, to be considered for an answer in a future Q and A column, please email me your dating/relationship oriented questions to drgilchrist@yahoo.com. Finally, I also offer a powerful, effective worldwide custom hypnosis recording service just for LDS Dimension members for weight loss, pornography, and many other issues of concern to those in the LDS dating community (please learn more now at www.dr-rg.com/lds; email me questions to drgilchrist@yahoo.com).