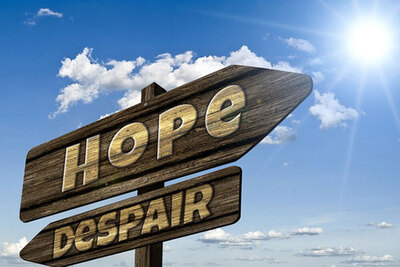 Faith, the first principle of the gospel, is defined in the scriptures as follows: Now faith is the substance of things hoped for, the evidence of things not seen. (JST Hebrews 11:1). So having hope is an essential element of faith. Furthermore, to have hope is defined in the Google dictionary as, "a feeling of expectation and desire for a certain thing to happen." Now, why would having hope be an important principle for singles in the church to possess? Because if you are single and want to get married someday, maintaining an optimistic sense of hope for marriage will be an important ingredient towards eventual success. If you do not have a sense of hope that you will get married, and instead have pessimism and cynicism on the subject, your chances and odds for marital success go down notably. As the old saying goes, nothing positive results from anything negative. The whole relationship prospect becomes an uphill battle. Therefore, developing and maintaining hope in eventual marital success will make the journey easier, more enjoyable, and most importantly, more successful.

Developing Hope Towards Dating, Relationships, and Marriage:

*Look to positive marital role models. Do you have any family members of friends that are in a happy and successful marriage? Pay attention to them. Ask them questions. Allow them to act as inspirations and evidence of the success you hope to have someday as well. In addition, you can even look to certain TV shows or movies with positive couples showing traits to look for and be inspired by. That which you focus on, you amplify. In short, looking to examples of success allows you to hope for the same kind of success as well as you approach dating and relationships in similar ways. Notice how they are doing things, work to emulate accordingly.

*Learn about healthy relationships in preparation for eventually choosing and having one. There are numerous helpful sources you can look to as you learn about what makes for healthy, happy marriages. The more you learn about this subject, the more you can have hope and confidence that you can choose and nurture such a relationship in your life as well. Two helpful sources to look for to learn about healthy relationships include reading, watching, or listening to 1) the works of Dr. John Gottman (the world's leading marital researcher), and 2) general authorities giving talks on healthy, happy marriages, such as in general conference. The more you learn and know, the more hope you can have that you can have this success in your life as well.

3) Choose to be hopeful. To be hopeful is a choice. A decision to be hopeful is something to repeat inside regularly with your self-talk. Practice talking in hopeful ways to family and friends regarding your hopefulness for future relationship success. The more that hopefulness is practiced inside and with others, the more that this principle becomes a way of life and a part of your personality.

4) Exercise faith to develop hopefulness. When you are praying, ask for more hopefulness towards the opposite sex, dating, relationships, and marriage. Whatever your current level of hope is towards relationships, look for spiritual support to boost your levels of hopefulness.

5) Utilize self-help materials. There are books, videos, and audios relating to the subject of hope and developing hopefulness. You can go to Amazon, You Tube, and Google searches for such materials. In addition, you can practice listening to hypnosis sessions on developing hope. Consider getting a related hypnosis audio session from Hypnosis Downloads, such as the following:
https://www.hypnosisdownloads.com/motivation-inspiration/hope-future
https://www.hypnosisdownloads.com/relationship-problems/give-love

6) Minimize or cut out pessimistic/cynical others from your life. Be careful with the people you have around you and interact with on a regular basis. If they have low hope towards relationship success and happiness, you may want to lessen or possibly even cut them out of your life. You don't want their cynicism and pessimism to rub off on you and for you that you may incorporate yourself. Beware of those who say things like, "I'm not pessimistic, I'm realistic". No, they are pessimistic. And since misery loves company, I recommend you lessen or even excuse yourself from connections with negative others on the topic of relationships and marriage.

Final Thoughts:

To be hopeful about dating, relationships, and marriage is a decision. A principle to commit to and practice strengthening. Why? Because hope is an essential part of faith, and without faith in future relationship success, your prospects for eventual success will be notably lower. You can either do things the proven, successful, easier way with hopefulness, or choose a much harder, difficult, uphill path of pessimism. I, of course, recommend doing things the easier, tried and true way. Successful role modeling has been shown. Look to those who have been successful. Incorporate their strategies and approaches to be the next marital success story. You can do it as you remember that "…neither is the man without the woman, neither the woman without the man, in the Lord."—1 Corinthians 11:1.

Dr. G
P.S. If you have any questions, comments, or a future article request for me, feel free to contact me at drgilchrist@yahoo.com.
About the author

Hello, my name is Dr. Randy Gilchrist (aka "Dr. G"). I am a licensed clinical psychologist, a licensed marriage & family therapist, and a certified hypnotherapist in private practice in Roseville, CA (www.dr-rg.com), practicing since 1997. Also, I am happily married in the temple (Manti) since 1996 and have 4 sons. I am a volunteer writer and contributor to LDS Dimension. I use my training, education, and experience to share insights with LDS Dimension on all things of interest to the LDS dating community. Please read my articles and columns on this site to assist you in your online dating journey. Also, to be considered for an answer in a future Q and A column, please email me your dating/relationship oriented questions to drgilchrist@yahoo.com. Finally, I also offer a powerful, effective worldwide custom hypnosis recording service just for LDS Dimension members for weight loss, pornography, and many other issues of concern to those in the LDS dating community (please learn more now at www.dr-rg.com/lds; email me questions to drgilchrist@yahoo.com).