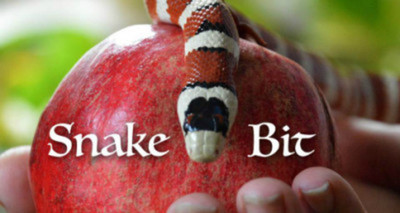 According to the Urban Dictionary, to be snake bitten is to "…be cursed, extremely unlucky or destined to fail at anything you try." When we have had failed relationships or marriages, it is pretty common to feel snake bitten. The worst part of feeling snake bitten in dating and relationships is that the fear of hurt and failure again can lead us to avoid or sabotage opportunities for relationship success. If we fear and even assume that a relationship will eventually fail, we will find a way to get out of it or not even be willing to get into it in the first place. Lost opportunity is the net result.

The pain and grief of a failed relationship is real. It is common for this pain to lead to hesitation, avoidance, cynicism, bitterness, resentment, and other reactions that could very well lead you to stay single. So if you feel snake bitten, what can you do to heal and give relationships a chance again?

Healing

To help your healing, consider the following ideas:

*Spiritual Help: do you pray to heal from your scars and head back out into the dating world? Do you read scriptures and conference talks on healing from emotional/relational scars? Have you consulted your bishop on the subject, perhaps asked for a blessing? Are you temple worthy? If so, have you considered going to the temple to pray for help on the subject? These are all ideas to consider and implement. To tap into spiritual help to both help get over feelings snake bitten and to help you find someone, I recommend the following classic self-help book or audio: Drawing on the Powers of Heaven by Grant Von Harrison.

*Social Help: Do you hang out with friends? Do you get out of the house? Do you practice saying hi and chatting with strangers? Do you have family/extended family that you can spend time with? Do you go to as many LDS singles activities as you reasonably can, even those out of the local area? Do you spend time chatting online with the opposite sex, such as on LDS dating websites (suggested: www.ldsdimension.com)? In sum, you can practice implementing/utilizing any and all social outlets besides formal dating to keep you sharp, connected, and to help you regain social confidence and competence until you are ready again.

*Counseling/Self-Help: Have you sought counseling from a qualified, licensed clinical psychologist or a marriage & family therapist? Do you regularly read, watch, or listen to quality self-help resources on relationships and healing? Do you listen to hypnosis at night? (Suggestion: https://www.hypnosisdownloads.com/relationship-problems/love-again or https://www.hypnosisdownloads.com/hypnosis-packs/end-relationship). The main thing is, have this be an area you regularly spend time actively working on. Don't wait for time to make you feel better. That could take many years, decades, even the rest of your life. Instead, be proactive about working on yourself in these way regularly.

*Improve Your Self-Talk: Regularly become aware of and improve the self-dialog you engage in about the opposite sex, relationships, and trying again. The story you tell yourself over and over again about the subject will go a long way towards determining you current and future feelings on the subject, in spite of whatever your past relationship experiences have been. Choose to practice having positive, optimistic conversations with yourself about your current and future relationship prospects. Remember the old saying, "if it is to be, it is up to me". Choose and decide on relationship success. No amount of pessimism ever made something positive happen.

Final Thoughts

The main idea of this article in that if you have been snake bitten and have become anxious, even avoidant of relationship opportunities, practice working on yourself in these 4 areas to get back out in the fray and seize relationship success. And it is worth it. Because "…neither is the man without the woman, neither the woman without the man, in the Lord" (1 Corinthians 11:11).

Sincerely,
Dr. G

INFO FOR READERS--
*To submit a question for a future Q & A column or to request a possible future article subject, contact me at drgilchrist@yahoo.com.
**Do you struggle with pornography or another addictive tendency? Do you struggle with eating issues or want to lose weight? Anxiety issues? Other issues, challenges, or problems? Consider my special custom hypnosis recording service for fellow LDS members only, available worldwide by online delivery. A powerful, effective, convenient tool for change. Learn more now at www.dr-rg.com/lds or email me questions at drgilchrist@yahoo.com. Completely private and confidential.
About the author

Hello, my name is Dr. Randy Gilchrist (aka "Dr. G"). I am a licensed clinical psychologist, a licensed marriage & family therapist, and a certified hypnotherapist in private practice in Roseville, CA (www.dr-rg.com), practicing since 1997. Also, I am happily married in the temple (Manti) since 1996 and have 4 sons. I am a volunteer writer and contributor to LDS Dimension. I use my training, education, and experience to share insights with LDS Dimension on all things of interest to the LDS dating community. Please read my articles and columns on this site to assist you in your online dating journey. Also, to be considered for an answer in a future Q and A column, please email me your dating/relationship oriented questions to drgilchrist@yahoo.com. Finally, I also offer a powerful, effective worldwide custom hypnosis recording service just for LDS Dimension members for weight loss, pornography, and many other issues of concern to those in the LDS dating community (please learn more now at www.dr-rg.com/lds; email me questions to drgilchrist@yahoo.com).