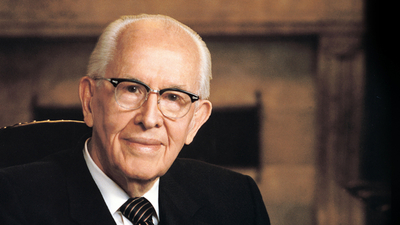 Since the restoration of the gospel in 1830 we have had many helpful, useful, uplifting quotes from general authorities of The Church of Jesus Christ of Latter-Day Saints. In previous articles I have shared some of these quotes having direct and indirect implications for singles within the church. In this article I will be sharing some more quotes that I have found helpful for singles. I hope that you will find at least some of these helpful to improve your life. Enjoy.

Quotes from General Authorities with Implications for Singles:

Find Belonging Somewhere/Keeping a Cheerful Attitude:
The Mayo Clinic recently noted: "Having a sense of belonging is so important. … Nearly every aspect of our lives is organized around belonging to something." This report adds, "We cannot separate the importance of a sense of belonging from our physical and mental health"—and, I would add, our spiritual health.
On the evening before His suffering in Gethsemane and death on the cross, the Savior met with His disciples for the Last Supper. He said to them, "In the world ye shall have tribulation: but be of good cheer; I have overcome the world." Before sunset the following day, Jesus Christ had suffered and had "died [on the cross] for our sins."
--Hope in Christ, President M. Russell Ballard


The Parable of the Good Samaritan: lose yourself and have relief from your cares through helping others.

On our dusty roads to Jericho, we are beset upon, wounded, and left in pain. Though we should help each other, too often we pass to the other side of the road, for whatever reason. However, with compassion, the Good Samaritan stops and binds our wounds with wine and oil. Symbols of the sacrament and other ordinances, the wine and oil point us to the spiritual healing in Jesus Christ. The Good Samaritan puts us on His own donkey or, in some stained-glass accounts, carries us on His shoulders. He brings us to the inn, which can represent His Church. At the Inn, the Good Samaritan says, "Take care of him; … when I come again, I will repay thee." The Good Samaritan, a symbol of our Savior, promises to return, this time in majesty and glory.

--Room in the Inn, Elder Gerrit W. Gong

Have Confidence and Esteem as a Single: shed stereotypes and negative categories.
You are a diverse group. I understand that all of you are over. In a sense that is the only thing you have in common, other than your membership in the Lord's Church.
Some of you have never married. Some of you have been married and been divorced, some with children and some without. Many of you are struggling to support your children. You have come to know that it is a harsh and cruel world out there. You long for help. You need help. Others of you are widows or widowers for whom loneliness is an unrelenting and constant experience. Though you are so diverse in your backgrounds, we have put a badge on you as if you were all alike. That badge reads S-I-N-G-L-E-S. I do not like that. I do not like to categorize people. We are all individuals living together, hopefully with respect for one another, notwithstanding some of our personal situations.

I assure you that I feel at home with you because you are all Latter-day Saints. In your hearts you know that God lives and that Jesus is the Christ and that this Church is the creation of the Almighty and the Savior whose name it bears. I know that you pray, and that is a wonderful thing. Sometimes you pray to the Lord with great earnestness for help, for companionship, for relief from your struggles. You wonder why your prayers are not answered as you would like them to be.
--A Conversation with Single Adults, President Gordon B. Hinckley; an address delivered on 22 September 1996 at the Salt Lake Tabernacle.

Suggestions from President Ezra Taft Benson for Singles: prayer, scriptures, reading words of the general authorities, keep your church activity, be an example to others, and keep focused on temple marriage.

Here are some of the priorities we pray that you single adult brethren will consider to be essential in your life. First, continue to draw close to the Savior through private, sincere, heartfelt prayer. Remember always, "the effectual fervent prayer of a righteous man availeth much" (James 5:16). "Feast upon the words of Christ" (2 Ne. 32:3) by consistently studying the scriptures every day and by following the counsel of the living prophets. Particularly make the study of the Book of Mormon a lifetime pursuit and daily sup from its pages.

Be an example in your Church activity—honor the Sabbath day, attend your meetings, observe the Word of Wisdom, pay your tithes and offerings, support your leaders, and otherwise keep the commandments. Serve cheerfully and gratefully in every calling you receive. Live worthy of a temple recommend and enjoy the sweet, sacred spirit that comes from frequent temple attendance. Dress and groom yourself in a way that reflects your lifelong commitment to share the gospel with others. Be thoughtful, loving, helpful, and appreciative of your family as you seek to deepen those eternal relationships. In your dating and courting, fully maintain the standards of the Church. Be morally clean. "Let virtue garnish [your] thoughts unceasingly" (D&C 121:45). Remember the counsel of Elder Bruce R. McConkie that "the most important single thing that any Latter-day Saint ever does in this world is to marry the right person in the right place by the right authority" (Choose an Eternal Companion, Brigham Young University Speeches of the Year, Provo, 3 May 1966, p. 2).

Understand that temple marriage is essential to your salvation and exaltation. Carefully select practical and worthwhile goals and, in an organized way, work to reach them. Apply yourself prayerfully and diligently to selecting and pursuing academic and vocational goals. Share the gospel and your testimony with those who are not members of the Church or who are less active. Improve your community by active participation and service. Remember in your civic responsibility that "the only thing necessary for the triumph of evil is for good men to do nothing" (Edmund Burke, in George Seldes, comp., The Great Thoughts, New York: Ballantine Books, 1985, p. 60). Do something meaningful in defense of your God-given freedom and liberty. Remember that your entire life is a mission and that each new phase of it can be richly rewarding as you magnify your talents and take advantage of your opportunities.
To the Single Adult Brethren of the Church, President Ezra Taft Benson, April 1988.

Final Thoughts:
Whichever of these quotes resonated with you, I hope you can find a way to take these thoughts to hearts and apply them to your life. I want all singles to feel included, important, and significant. I hope your hearts are a bit more uplifted and you can go forth well from there. Finally, remember that "…neither is the man without the woman, neither the woman without the man, in the Lord." (1 Corinthians 11:1).

Dr. G
P.S. If you have any questions, comments, or a future article request for me, feel free to contact me at drgilchrist@yahoo.com.
About the author

Hello, my name is Dr. Randy Gilchrist (aka "Dr. G"). I am a licensed clinical psychologist, a licensed marriage & family therapist, and a certified hypnotherapist in private practice in Roseville, CA (www.dr-rg.com), practicing since 1997. Also, I am happily married in the temple (Manti) since 1996 and have 4 sons. I am a volunteer writer and contributor to LDS Dimension. I use my training, education, and experience to share insights with LDS Dimension on all things of interest to the LDS dating community. Please read my articles and columns on this site to assist you in your online dating journey. Also, to be considered for an answer in a future Q and A column, please email me your dating/relationship oriented questions to drgilchrist@yahoo.com. Finally, I also offer a powerful, effective worldwide custom hypnosis recording service just for LDS Dimension members for weight loss, pornography, and many other issues of concern to those in the LDS dating community (please learn more now at www.dr-rg.com/lds; email me questions to drgilchrist@yahoo.com).