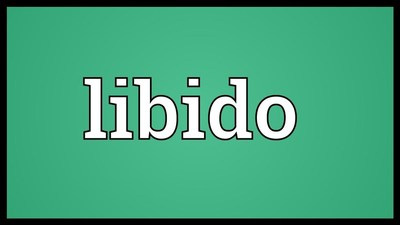 As you know, single member of the Church of Jesus Christ of Latter-Day Saints are expected to keep the law of chastity, which basically states that we need to reserve sexual expression within the confines of marriage only. And with the "do you keep the law of chastity?" question as a part of the temple recommend, we are regularly reminded of the importance to reserve sexual expression for marriage. OK. But at the same time, what about your sexual libido? It is understandable for your libido as a single member to be lower than others. Singles working to keep the law of chastity commonly tend to have lower libidos because they strive to not stir up such emotions for fear of acting out in a regrettable fashion—perhaps even in a way requiring a trip to confess and address the sin with a bishop. Understandable.

So why am I even bothering with an article talking about this topic? Two reasons. First, a proper purpose of a strong sexual libido is that acts as a strong motivator to help one strive for a new relationship, to date, and to eventually marry. Utilized correctly, one's libido can be a powerful force to channel as an effective motivator towards appropriate socialization, commitment, and marriage. Second, a strong libido helps promote a regular, healthy sex life in an eventual future marriage to help bond couples together throughout the years and decades. Therefore, for these two appropriate purposes, I will review a few ideas to help increase your libido. So, what can be done to help boost a low or even non-existent libido? Suggestions are given below.

Ideas to Increase Your Libido:

*Develop a positive attitude about sex. Liking sex and seeing the subject as a positive thing is helpful to boost libido. Practice telling yourself positive (yet appropriate) things about sex when exercised properly in marriage. See sex in a optimistic fashion. Not only will this help motivate you to date and marry, but this positive attitude towards sex will carry over to help support your eventual marriage as well. Be aware of your self-talk on the subject of sex (and the opposite sex in general). Keep your self-talk on these subjects as positive and appropriate as possible.

*Consider getting hormones. A fairly safe and effective way to help to increase one's libido is to get a personalized prescription for "bio-identical hormone replacement therapy" (also called BHRT). BHRT is a medication compound to help replenish whatever levels of hormones are low in you to promote a boost back at the levels you had as a younger person again. These hormones often include testosterone for men, as well as testosterone, estrogen, and progesterone for women. Both men and women can get BHRT and it is helpful. It is called BHRT because the hormone is biologically identical to the hormone already in your body, hence it is comparatively safer than traditional HRT. There are some potential side effects, but the risks seem minimal. You can learn more about BHRT at: https://en.wikipedia.org/wiki/Bioidentical_hormone_replacement_therapy

*Get in better shape physically. Healthy eating, sleeping, exercise, helps promote a healthier libido, as well as better overall health, energy, positive mood, and self-esteem. Research a target weight and work towards achieving and maintaining that ideal weight. Looking good on the outside and feeling better on the inside together will help boost libido. For more ideas on identifying and working towards your ideal weight and getting physically healthier, see:
https://www.ldsdimension.com/articles/your-ideal-weight-166/
https://www.ldsdimension.com/articles/being-healthy-229/

*Listen to hypnosis. Listening regularly to hypnosis can help you slowly condition yourself and your mind towards a better, more positive, more optimistic and enthusiastic attitude towards sex and having a good sex life one day in marriage. I recommend the website www.hypnosisdownloads.com for affordable, decent quality hypnosis on a variety of subjects. For this subject, consider listening to these sessions to increase libido:
https://www.hypnosisdownloads.com/sexual-problems/male-libido
https://www.hypnosisdownloads.com/sexual-problems/female-libido
https://www.hypnosisdownloads.com/sexual-problems/sex
https://www.hypnosisdownloads.com/sexual-problems/shy-naked
https://www.hypnosisdownloads.com/self-confidence/body-confidence
https://www.hypnosisdownloads.com/clinical-hypnotherapy/body-dysmorphia

*Keep your talk with other singles positive on the subject. If you catch yourself saying negative things to others about sex, or you catch yourself agreeing with others when they have negative things to say about sex, you are conditioning yourself away from a positive and strong libido. And when you speak or listen to negative attitudes from others about sex, this not only lowers libido, but it can also set you up for a bad future sex life with your spouse. In other words, if you go into a future marriage having spoken or having heard many negative things about sex, this will follow you into your marriage and hurt your sex life together. So, don't. Set yourself up for success on this subject, not failure.

*Decrease stress. Stress and anxiety can be libido killers. So, learn and regularly practice better stress and anxiety management. Consider listening to applicable hypnosis sessions from www.hypnosisdownloads.com, as well as the ideas in these workbooks:

The Relaxation and Stress Reduction Workbook by Martha Davis
The Anxiety and Phobia Workbook by Edmund Bourne

Final Thoughts:

Increasing your libido can be utilized in proper, helpful ways as a single for the reasons explained in this article. Work on this area of your life and you will find it helpful to motivate towards marriage, and then to strengthen your marriage from there. You can do this. Because "…neither is the man without the woman, neither the woman without the man, in the Lord."—1 Corinthians 11:11.

Dr. G
P.S. If you can questions, comments, or a future article request for me, feel free to contact me at drgilchrist@yahoo.com.
About the author

Hello, my name is Dr. Randy Gilchrist (aka "Dr. G"). I am a licensed clinical psychologist, a licensed marriage & family therapist, and a certified hypnotherapist in private practice in Roseville, CA (www.dr-rg.com), practicing since 1997. Also, I am happily married in the temple (Manti) since 1996 and have 4 sons. I am a volunteer writer and contributor to LDS Dimension. I use my training, education, and experience to share insights with LDS Dimension on all things of interest to the LDS dating community. Please read my articles and columns on this site to assist you in your online dating journey. Also, to be considered for an answer in a future Q and A column, please email me your dating/relationship oriented questions to drgilchrist@yahoo.com. Finally, I also offer a powerful, effective worldwide custom hypnosis recording service just for LDS Dimension members for weight loss, pornography, and many other issues of concern to those in the LDS dating community (please learn more now at www.dr-rg.com/lds; email me questions to drgilchrist@yahoo.com).