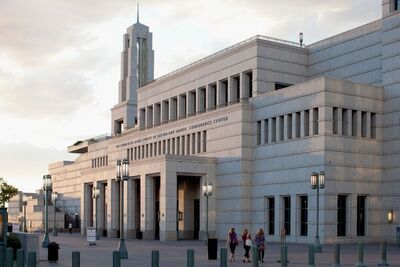 In general conference every 6 months, we are blessed to receive the latest guidance, instruction, and inspiration from prophets, apostles, and other general authorities. In fact, the modern revelation coming from prophets is one of the special, distinguishing features of The Church of Jesus Christ of Latter-Day Saints. Ideally, we members pay special attention to the direction and inspiration shared at these conferences. In this article, several quotes will be taken from the most recent conference that can be particularly helpful and useful to single members.

Quotes from the April, 2022 General Conference:

*Dismiss mocking/attitudes from those in the great and spacious building (the world):

The word heed suggests taking notice of or paying attention to someone or something. Thus, the lyrics of the hymn "Let Us All Press On" admonish us to make an affirmative decision to pay no attention to "what the wicked may say." And Lehi and the people with him who were partaking of the fruit of the tree provide a strong example of not paying attention to the mocking and scorn that so frequently come from the great and spacious building.
-- Elder David A. Bednar, "But We Heeded Them Not"

There are many worldly attitudes today against principles and standards of the church, including those with special relevance to single members. These attitudes include mocking the law of chastity, monogamy, and marriage as an institution and way of life. Satan tries to get members today to adopt these worldly attitudes. The goal: frustrate temple marriage, prevent or split families, and keep people buried under the burden of sin. Please reject these ideas and remember the source they came from. Reject the ideas coming from those in the great and spacious building.

*We can overcome past relational pains:
The Lord teaches us that forgiving others is a universal commandment: "I, the Lord, will forgive whom I will forgive, but of you it is required to forgive all men." Extending forgiveness can take tremendous courage and humility. It can also take time. It requires us to put our faith and trust in the Lord as we assume accountability for the condition of our hearts. Here lies the significance and power of our agency. With the depiction of this father in the parable of the prodigal son, the Savior emphasized that forgiveness is one of the noblest gifts we can give one another and most specifically ourselves. Unburdening our hearts through forgiveness isn't always easy, but through the enabling power of Jesus Christ, it is possible.
--Amy A. Wright, "Christ Heals That Which Is Broken"

To forgive is to release and let go of the negative emotions we have been holding onto towards others after their mistreatment or offense to us. So, when this quote highlights that forgiveness is "one of the noblest gifts we can to ourselves", and involves "unburdening our hearts", such wisdom is great to embrace. To remember that the forgiver benefits more than the one forgiven can help act as a motivator to forgive. In addition, forgiving past relational rounds prepares us to be more ready, able, and willing to have healthy future relationships.

*We can change and improve. We need to change and improve:

President Thomas S. Monson once shared the story of prison warden Clinton Duffy. "During the 1940s and 1950s, [Warden Duffy] was well known for his efforts to rehabilitate the men in his prison. Said one critic, 'You should know that leopards don't change their spots!'

"Replied Warden Duffy, 'You should know I don't work with leopards. I work with men, and men change every day.'"1

One of Satan's greatest lies is that men and women cannot change. This untruth gets told and retold in many different ways as the world says that we simply cannot change—or worse yet, that we should not change. We are taught that our circumstances define us. We should "embrace who we really are," the world says, "and be authentic to our true selves."
--Elder Kevin S. Hamilton, "Then Will I Make Weak Things Become Strong"

Whatever you need to change and improve personally or relationally, you can do it. You need to do it. What does it require? Perseverance, adjustments, and faith. Put that combination together and there is much positive change that is possible. Whatever you need to do to prepare for your next relationship, be proactive. Remember that if you think you can or you think you can't, you're right. Your attitude will greatly determine how much, how soon, and to what degree you will change and improve. Aim big, work big, change big.

*The time to get it together spiritually and otherwise is NOW:

I like this poem by Henry Van Dyke, posted on a sundial at Wells College in New York. It reads:

The shadow by my finger cast
Divides the future from the past:
Before it, sleeps the unborn hour
In darkness, and beyond thy power:
Behind its unreturning line,
The vanished hour, no longer thine:
One hour alone is in thy hands,—
The NOW on which the shadow stands.

Yes, we should learn from the past, and yes, we should prepare for the future. But only now can we do. Now is the time we can learn. Now is the time we can repent. Now is the time we can bless others and "lift up the hands which hang down." As Mormon counseled his son Moroni, "Let us labor diligently; … for we have a labor to perform [while] in this tabernacle of clay, that we may conquer the enemy of all righteousness, and rest our souls in the kingdom of God."
--President Russell M. Nelson, "Now Is the Time"

There will always be the temptation to put off changes and improvements. But why would later be a better time to improve and change? It wouldn't be. Whatever changes you need to make, the best time to make them is right now. Today. Immediately. It will never be easy or convenient. But the sooner you work on your improvements, the sooner you will enjoy the benefits. On the other hand, if you have reasons to not make changes now, you will also have them in the future too.

Final Thoughts:

Every 6 months when we have general conference, we have a new opportunity to hear the most current, up to date revelation, guidance, support, and direction from the Lord through his servants the prophets. Please pay attention to this essential information and find ways to implement these ideas into your life. And remember, "…neither is the man without the woman, neither the woman without the man, in the Lord."—1 Corinthians 11:11.

Dr. G
P.S. If you have any questions, comments, or a future article request for me, feel free to contact me at drgilchrist@yahoo.com.
About the author

Hello, my name is Dr. Randy Gilchrist (aka "Dr. G"). I am a licensed clinical psychologist, a licensed marriage & family therapist, and a certified hypnotherapist in private practice in Roseville, CA (www.dr-rg.com), practicing since 1997. Also, I am happily married in the temple (Manti) since 1996 and have 4 sons. I am a volunteer writer and contributor to LDS Dimension. I use my training, education, and experience to share insights with LDS Dimension on all things of interest to the LDS dating community. Please read my articles and columns on this site to assist you in your online dating journey. Also, to be considered for an answer in a future Q and A column, please email me your dating/relationship oriented questions to drgilchrist@yahoo.com. Finally, I also offer a powerful, effective worldwide custom hypnosis recording service just for LDS Dimension members for weight loss, pornography, and many other issues of concern to those in the LDS dating community (please learn more now at www.dr-rg.com/lds; email me questions to drgilchrist@yahoo.com).